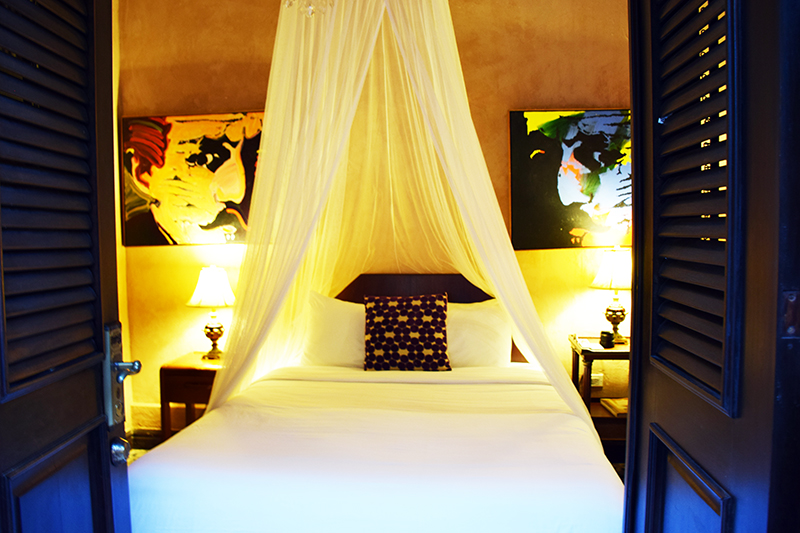 Villa Herencia By Dining Traveler – Villa Herencia Hotel
A few weeks ago, I headed to Puerto Rico to film my video campaign for The Dining Traveler Guide to Puerto Rico. El Viejo San Juan is one of my favorite places in the world with its cobblestoned streets and colorful homes.  
I decided to stay at Villa Herencia, one of the Old San Juan Hotels that is quietly tucked into the colorful streets of this beloved Puerto Rican neighborhood.  I travel to Puerto Rico often but had not heard of this hidden gem until my friends at Poshpacker (a booking site focusing on unique small properties) told me about it. Although my mission with the blog is to share places I love, part of me wanted to keep this all to myself. However, I'm in a sharing mood!
The Scene:  A former convent, Villa Herencia is a small eight-room property located in Caleta de las Monjas in Old San Juan. If you walk too fast, you may miss the entrance!  The decor is everything I love about Old San Juan hotels: colorful, filled with local art, and the history of the old city etched in its walls.  You stay in Villa Herencia to dive deep into the culture of Old San Juan, get to know the neighbors (had a 30-minute conversation with a neighbor who feeds the feral cats of the street), and discover the little treasures of the old city.
My favorite part of the property was its rooftop patio.  I spent my mornings there working (great internet connection) as I still had to work during my trip. What I do visualize on a future trip are sunset drinks and appetizers on a trip with the Dutchman.  Dining Traveler Tip: there's a relatively large supermarket, Super Max, just a five-minute walk from the hotel perfect to pick up water, snacks, and of course, wine.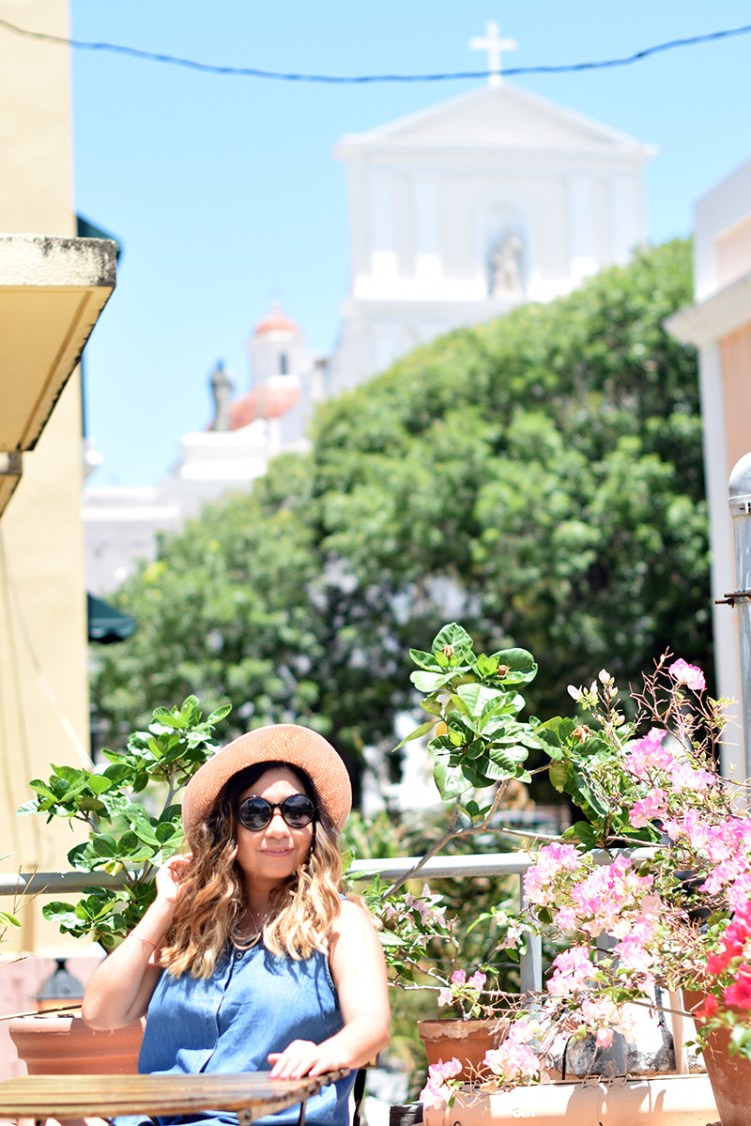 The Room: I was welcomed by Jonathan at the front desk of Villa Herencia who gave me a quick rundown of the hotel, showed me to my room, and shared some details about the local neighborhood.  My room was on the first floor of the hotel. It was a little on the smaller size but very comfortable.
The room has a plush bed, a nice shower, and a small desk area. What caught my eye the most was the attention to detail with paintings of local artists and the Moroccan style mirror.  I was so busy working and running around that I only went to my room to sleep.  If you are in Puerto Rico, there is so much to do and see that you should ONLY be in your room to sleep!!!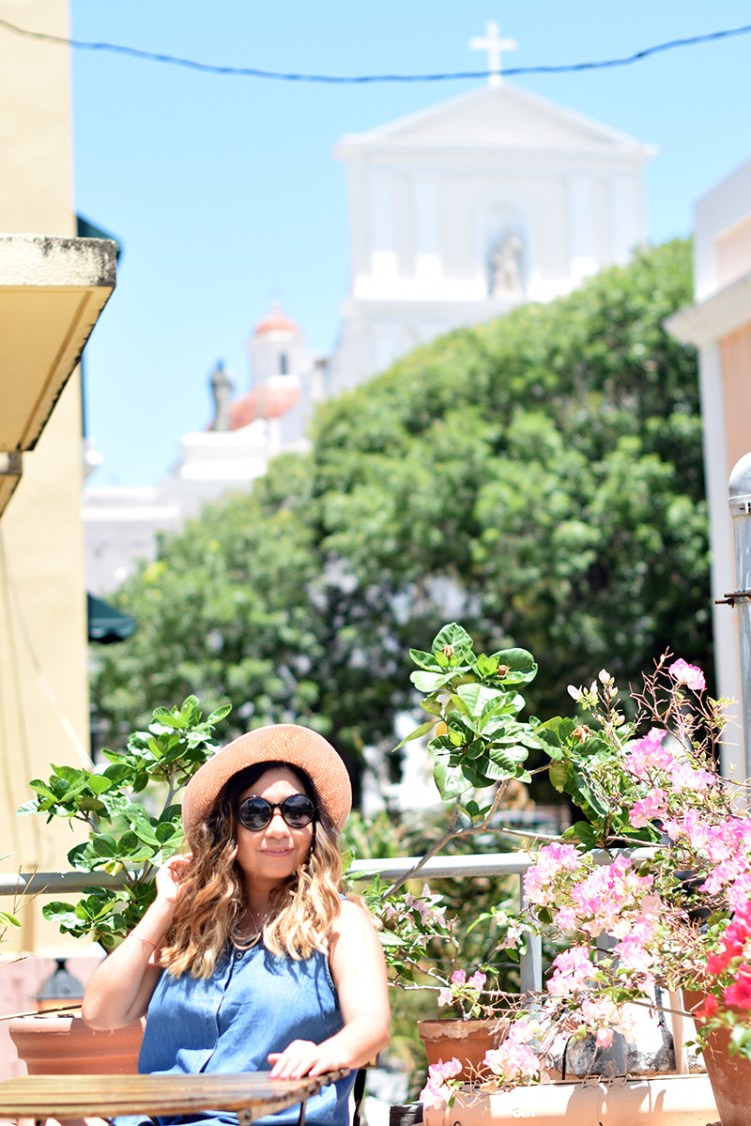 The Location: If you love art, food, and nightlife, this is the place for you.  Although you may not have a beach within walking distance, I find Old San Juan brings you closer to Puerto Rican culture more than any other tourist destination in San Juan. Villa Herencia is one of the Old San Juan hotels located in the heart of that culture.
There are plenty of locally-owned galleries and restaurants just a short walk away.   In the mornings, I enjoyed going for a run along Paseo de la Princesa, just steps away from the hotel. Dining Traveler Tip: when in Puerto Rico, rent a car! It gives you much more access to beaches and restaurants favored by locals.  Free street parking is hard to come by at Villa Herencia, but there are several parking garages to choose from close to the hotel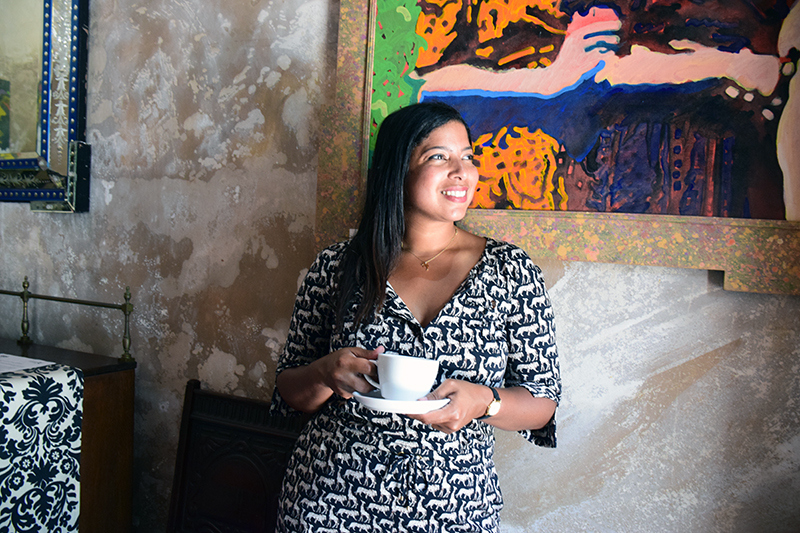 The service: I felt like I was staying at the awesome home of a friend.  Although breakfast ended at 9 am, I asked the staff if I can have breakfast later and they happily saved me breakfast.  I also was happy to see that Villa Herencia serves local fruits from a farm in Cidra (a town in the center of the island).  I also observed the front desk helping other guests book tours and helping them with travel arrangements. The vibe is very casual and friendly.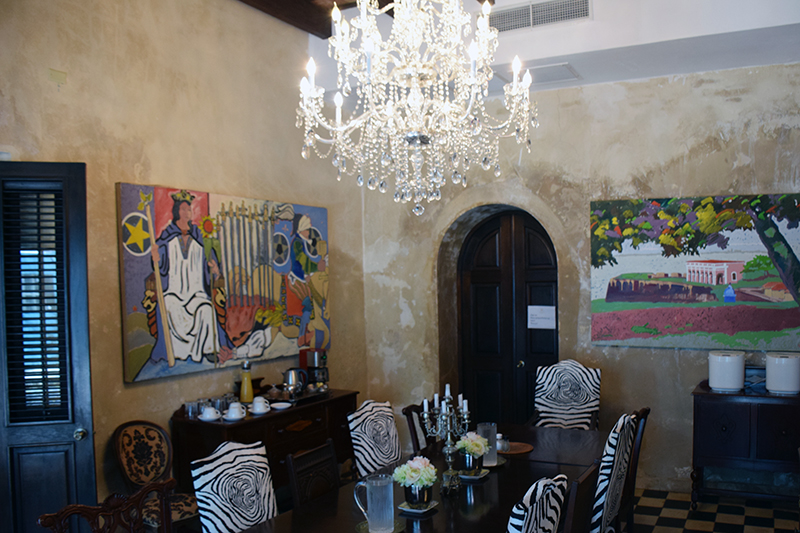 The verdict: If you are looking for a hotel with a huge pool, margaritas by the beach, and a concierge, this is not the place for you. However, if you want an affordable stay (average $120-160), dive deep into the culture of Old San Juan, and be able to be steps away from great art and food, this is the place for you. Villa Herencia is now one of my favorite Old San Juan hotels. The hotel has an authentic, local vibe.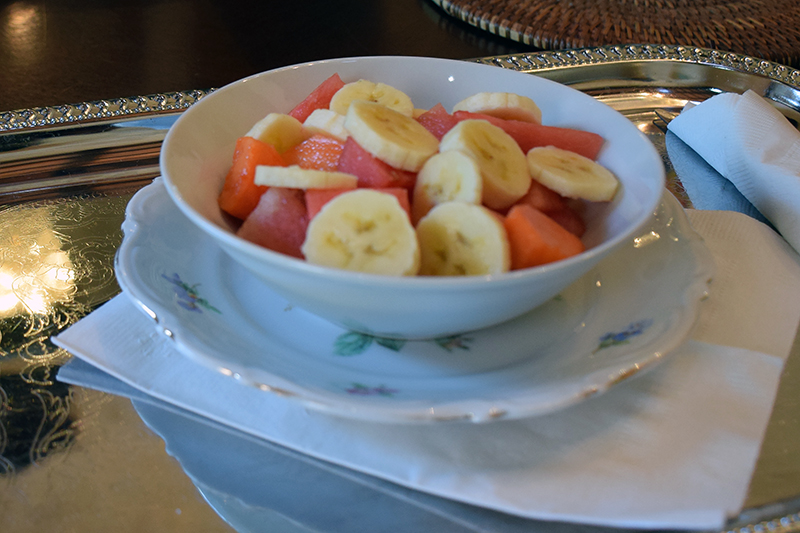 Villa Herencia By Dining Traveler – Villa Herencia Hotel
Disclaimer: I was graciously hosted by Villa Herencia in a collaboration with Poshpacker, a up and coming travel booking site featuring unique and affordable properties throughout the world. 
Visit Our: Favorite Restaurants In Puerto Rico